Dendy Park Swiss Pairs

Swiss Pairs -Sunday February 21st 2021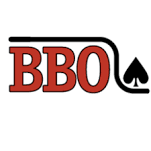 The event will be held on BBO as a SWISS  PAIRS Event on Sunday the 21st of February.
Format:     7 round of 8 board  matches
Director :   Dr. Laurie  KELSO
10AM start , lunch break 1PM till 2PM  Finish approx.  5.30PM
Cost :       12  BBO$  per person for the 2 sessions.
Those of you who have booked for the face to face congress (19pairs) wish to thank you for your support!
Please re-confirm your bookings for the changed event.
We welcome everybody  to our SUMMER CONGRESS !
Please enter on our website  dpbridge.com , or respond to this email.