Macedon Ranges Congress: 25 Sep 2016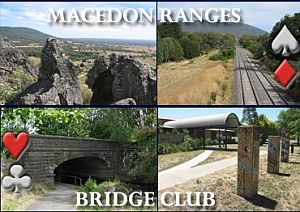 The Macedon Ranges Bridge Club Annual Open Pairs Congress is being held on Sunday 25 September. All welcome.
The event will be Match Point Open Pairs with a qualifying round and final. A light lunch will be provided by the club, which is included in the entry fee of $40 per person.
Qualifying Session Commences at 10:00am. The Final & Consolation Sessions commence at 1:45pm after the lunch break.
Continuous Tea, Coffee & Biscuits included
Prizes for section winners & best local pair
Visit MRBC at: www.mrbc.asn.au
VBA Regulations apply
System cards are mandatory
ABF procedures on alerting enforced
Use of mobile phones attracts penalties
Enter:
Download The Flyer
MatchPoint Pairs:
Sun 25 Sept: 10 am, $40pp (incl lunch)
MPs: Red
Director: Graham Hill
Convenor: Ron Watkinson
From Melbourne, take the Calder Freeway, M79. Travel about 78 km from the Bolte Bridge and exit to Woodend on the C324 (2nd Woodend exit). Keep left and continue for about 800m and take the first turn left into East Street. After a further 300m make a right turn into Buckland Street at the cemetery. The Norma Richardson Hall is on the right-hand side. Parking in the street only, please (not in church grounds).
From the north travel along the Calder Freeway and take the 2nd Woodend exit, the C324, turn right and follow the above instructions.
A map of Woodend is on our web-site, www.mrbc.asn.au showing access from the Calder Freeway, Woodend railway station and the Bridge Congress venue.