Traralgon Congress 2018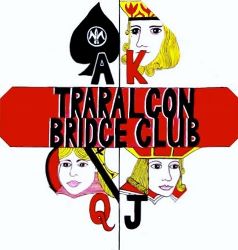 ---
The Traralgon Bridge Club Inc invites you to enjoy a weekend, not too far from Melbourne, with renowned country hospitality.
Our 5th Annual Congress is to be held on the weekend of 18-19th August 2018.
Cash prizes for open and restricted pairs and teams.
Wine or chocolates for ERBA winning pairs and teams.
This congress is fantastic value at $30-35pp a day, including Sunday luncheon. Not to be missed.
Traralgon has numerous motels and 2 B&Bs available for accommodation. Meals are available from a wide selection of hotels, restaurants and clubs.
                                                   Enter Here:
Swiss Pairs:
Sat 18 Aug: 11am, BYO lunch, $30pp
Swiss Teams:
Sun 19 Aug: 10am, light lunch included, $35pp
MPs: Red
Director: Laurie Kelso
Convenor: Rhonda van Dyke
Postal entries to Traralgon Bridge Club, PO Box 1849, Traralgon 3844.
Please arrive 30 minutes before play starts.
Tea, coffee, fruit juice, water and finger food available both days and also during presentations at end of both days play.
Cash and other prizes to be won.
More info: www.bridgewebs.com/traralgon/
Federation University Auditorium
Building 3E, Mary Grant Bruce Dr
Churchill 3842
Regulations: VBA Regulations apply
Systems: System cards are mandatory and Highly artificial systems are not allowed.
Alerting: Current ABF procedures are enforced.
Mobile Phones: Use of mobile phones in the building will attract penalties.