Tricks & Trumps Congress 2020
Tricks and Trumps 2020 Congress
Saturday & Sunday February 15th & 16th 2019 at 10.00 am each day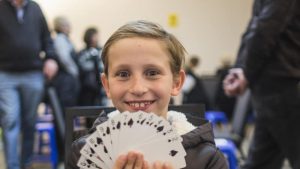 Venue: ELECTRA COMMUNITY CENTRE, 21B ELECTRA AVE, ASHWOOD. (Waverley Bridge Club – at the rear of the lower car park)
Chief Director:  Leigh Gold
Saturday:    Matchpoint pairs
Sunday:        Swiss Pairs
Download a flyer & entry form
GENEROUS CASH AND OTHER PRIZES WILL BE AWARDED IN OPEN AND RESTRICTED GRADES.
PRIZES ACCORDING TO ENTRY NUMBERS.
ENTRY FEES:  $100 per pair each day.
Please bring cash or pay by cheque on the day. We do not have credit card facilities
Please place correct entry fee in envelopes provided at the table.
Change will be available at the door.
All entry fees include a delicious lunch. (  A vegetarian option will be offered.) Snacks will be served during the day and drinks will be available for purchase                                               
System cards mandatory.  Highly artificial systems not permitted.
Please enter at bridgeunlimited.com from mid January.
Or send completed form to the Convenor:
Leigh Gold  P.O. Box 2017, Mount Waverley 3149  or by emailing the office at leigh.gold@bigpond.com
You can also phone Leigh on 0400 081 710 for all information or to enter.
PLEASE PAY ON THE DAY. DO NOT SEND ENTRY FEE WITH FORM.
Posted Date: