Robbie van Riel 1949 – 2018
Robbie van Riel passed away on Sunday June 17 having stoically battled lung cancer all year.
Just the weekend beforehand he had managed to play a few matches in the VCC although he was in pain and moving slowly.
Click Here to see a photo collection of Robbie with friends over the years.
Robbie was an icon in the Australian bridge world. He represented Victorian in the Open teams at the National Championships 12 times between 1976 and 2006 and won 6 silver and one gold (1986).  He also represented Victoria in the Seniors team twice.  He won the Victorian Open teams in 1999.  He was due to represent us again on the Open Team in Hobart next month.
Amongst his National titles Robbie won the National Open Teams twice (1979 & 1980) the Gold Coast Teams (1998) and the 2012 National Seniors Teams. He won the Bobby Evans Seniors Teams at the Spring Nationals in 2013. He played on several Australian teams in Seniors bridge and took home the bronze medal from the Asia-Pacific Open pairs in 2014
Robbie is 34th in the all time list of Masterpoint winners.
He loved the theatre. He was an expert at cryptic crosswords. His explanations of why a cryptic answer was right sometimes seemed more cryptic than the original clue, but he always patiently expanded his explanation when asked!
Everyone who knew him will always remember his pure, joyful laugh.
Our condolences to Jan, Paul, Yoka, and all of his family and friends.
There will be memorial service to celebrate Robbie's life at 3:00pm on Tuesday 26th at Milanos, 4 The Esplanade Brighton – upstairs in the function room.  Entry from 2:00pm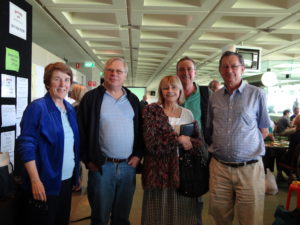 Margaret Bourke, Robbie van Riel, Felicity Beale, David Smith, David Hoffman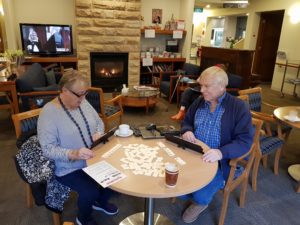 Robbie playing rummy tiles with his sister Yoka in hospital May 2018
Posted Date: