VBA Smartphone Calendar
As we move further into the 21st Century we need to embrace the technologies which will enhance our bridge experience. One of these will be bridge calendars linked to Smartphones.
Even on the road you will be able to easily get information which bridge games are being played plus where and when they are played.
The VBA has loaded the 2020 Calendar into an online Google Calendar called [email protected].
This calendar has been made public and in a few short steps you can have it on your Smartphone, Ipad or Ipod). The calendar has all dates for 2020 for VBA Events, Victorian Congresses, and ABF events.
Full information is included. The location is in a form readable by Google maps so you can click in the location field to bring up a map to enable you to get regional congresses.
Full information provided by clubs regarding their congresses are included and there are clickable links to the club websites in case you require additional information.
Links to results will be included in the future.
To have the calendar linked to your phone you do, however, have to have a google account.
If you don't have one already it is relatively easy to set one up.
Android phone users will already have one I am sure.
To set up an account just go to: Google Setup
Iphone users should refer to: Google IPhone
Once you are signed up login, and then go to the full calendar app.
Click the Next link at the top to go to the next page for detailed assistance.
The image below is what you should see when you connect to Google Calendars via your mobile device.
Once you are in you can navigate the calendar as you wish to find out VBA Session Information.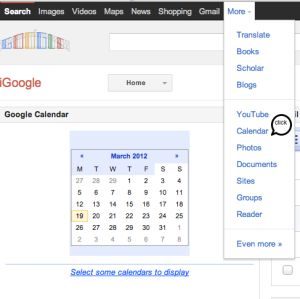 Once in the Calendar you now need to Add a friends calendar
The Calendar you want to add is [email protected]
Once you add this you should see some days populated with VBA Calendar info.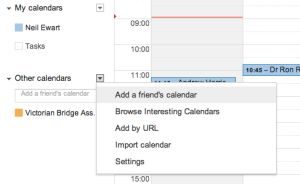 In Google calendar you can sync other calendars (see menu item above called Browse Interesting Calendars.
You can sync such things as Australian Public Holidays, Jewish Holidays etc.
If you have an android phone that has your gmail account already set up then the calendar should sync automatically with the native Calendar app that came with your phone.
If not go into the Settings in the Calendar app, Click on Calendars and if the VBA one isn't checked Check it now.
If you can't see the VBA Calendar then you may need to sync the calendar manually ? to do this scroll down in Settings to the last item Calendar Sync and re-sync.
Also check the sync settings on your phone.
Android Phone Synching
The native Calendar app has some limitations. For instance, you cannot click in the location field and bring up a google map.
There are lots of other Calendar apps available in the 'Play Store' (previously know as the 'Market').
I am using one called Business Calendar which is much superior.
It enables you to quickly turn off the VBA Calendar if you just want to see your personal calendar and then turn it back on all from the main screen.
In the native App you need to go into settings to turn a calendar off.
There is a free ad-supported version or, for $5.30, you can buy the non-ad version.
This page is about synching your iPhone with the VBA Google Calendar.
Tap on Settings/Mail, contacts, calendars/Add Account.
On the next screen select GMAIL
On the next screen enter:
Name: (e.g. John Doe)
Email: ([email protected])
Password (your gmail password)
Description (optional)
iPhone Synching
Tap Next. Your account will be verified.
On the next screen you need to slide the calendars tab to On.
Tap Keep on my Iphone to the next question (and confirm this is what you want to do).
Tap on Save.
The phone will now sync the calendars & the new events should appear soon.
You may find this link useful: Support Link
I hope you find this useful. If you have any questions please email me at Neil Ewart
Posted Date: