Bring Your Grandchild To Bridge Day
On Wednesday September 25, probably for the first time in its history, the VBA conducted a teaching clinic for school-age children. We were delighted that 25 kids from across Melbourne and beyond were in attendance, accompanied, in nearly all cases, by their grand-parents. The children ranged from 5 to 14 years and exhibited both remarkable stamina and tremendous learning capacity over the five-hour event. As if to prove the point, the final hour was spent actually playing a Duplicate !
The day was characterized by a lovely atmosphere, a great sense of fun and mental adventure and a fabulous endorsement of the value of the game of bridge for all ages. Our great thanks go to Leigh and Bianca Gold, who are the national Youth Co-ordinators of the ABF and who conducted the day with great efficiency. They both commanded a truly remarkable degree of concentration from their charges, both children and adult and oversaw an impressive rate of progress from the children present.
Everybody present has been effusive in their praise of the day (including  the great catering from Helen) and it is hoped this will become a regular event, both at the VBA and at other clubs across Victoria.  If other clubs are keen to run a similar day please contact the VBA for information [email protected]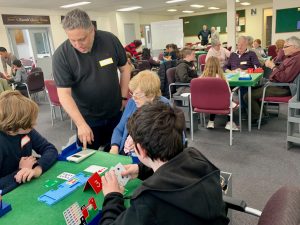 Posted Date: