Simon Hinge attains Emerald Grand Master
In a career spanning 5 decades Simon Hinge has amassed over 10,000 masterpoints and has joined the elite Emerald Grand Master category – one of only 10 players to ever have achieved that extraordinary milestone.
Simon was raised in country South Australia and learnt bridge as a child and commenced competitive play in 1977. He moved to Melbourne in 1980
During his illustrious bridge career Simon has won a string of National Events including the ANC Interstate teams (2003,2011) the ANC Open Butler (2007), the ANC Interstate Pairs (2009), the Victor Champion Cup (1991,2005,2010,2013), the Autumn National Open Teams (2015), the Barrier Reef Pairs (2016), the Australian Swiss Pairs (2013), the Dick Cummings Open Pairs (2011), The Spring National Open Teams (2018), the South West Pacific Teams (2011), the Roger Penny Swiss Pairs (2013).  In addition he was won placings in innumerable other national events
In addition he has represented Victoria in the Interstate Open teams 11 times since 1993 and has won the Victorian Pennant 11 times.
Here is a hand that I played against Simon in the Final of 2014 National Seniors Teams where he got me.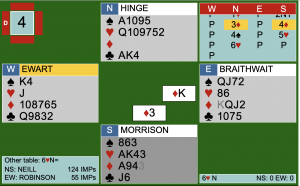 The diamond was led and without blinking Simon lay the Ace of Spades on the table.  I was too asleep to see why he was doing this.  Now he eliminated ALL the side suits and threw me in with the King of spades – now I had the ignominy of having to give him a ruff and slough.  It was a great play to see this chance and catch a defender napping early.  Had he tried it a bit later I would have got the gag and chucked the King under the ace.  Well played!
Congratulations Simon
Posted Date: