Victorians at the Gold Coast Congress
Whilst Victorians were conspicuously absent from the top 6 teams in the Open Teams that made it through to the finals there were some successes in the other teams events at the recent Gold Coast Congress.
In the Restricted Teams the WALSH team of Nick Walsh – Derek Poulton (Shepparton) and Lisa Yoffa – James Thomas (Waverley) won the qualifying rounds but lost in the 48 board final to the No. 1 seeds from Sydney VAN WEEREN.
In the Seniors Teams two Victorians David Smith – Neil Ewart were part of the victorious NAGY team.  The No. 2 seeds suffered a hammering in the qualifying rounds against the top seeded BRIGHTLING team but exacted their revenge against them in the final.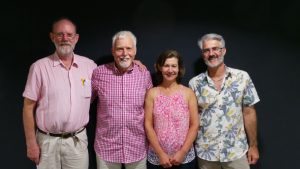 GCC Restricted Teams Runners Up 2018 Nick Walsh – Derek Poulton (Shepparton) and Lisa Yoffa – James Thomas (Waverley)
Posted Date: